I'm still keeping it pretty simple upon rising, so not much has changed in that regard.
When I'm not making Cinnamon Rolls or Blueberry Muffins or Banana Bread, I'm usually reaching for a satisfying bowl of Oatmeal to break my fast.
I'll make myself a smoothie when I'm feeling "Healthy" or whatever. This hasn't really been the case these days so I won't put on airs or anything.
This is one of my favorite juices – fresh Pineapple juiced with Ginger and Tumeric.
Before I eat any solids in the AM, I drink 8-10oz of water immediately after opening my eyes, some type of hot herbal tea shortly after, followed by 8-12oz of fresh pressed juice within 1-2 hours of rising. THEN, only then will I eat a nice substantial meal.
I'm happy to say that my morning routine is slowly but surely evolving, and rising + tackling my to-do list has been something that I've been looking forward to doing more and more everyday.
I tend to function as an avoidant personality type (more on this later) so there's a small bit of measurable growth that I've noticed on my part.
A couple of weeks ago, I was getting overwhelmed just thinking about THINKING ABOUT the sheer number of things that I wanted to (read: needed to) accomplish each day. I was anxious all day and not getting anything done really.
When I wouldn't get all of the things done on my list – which was always getting longer and longer in my head because I was too overwhelmed to even look at it, let alone attempt to start it – I would start being really hard on Self for not getting anything done.
It took me a moment to realize what was really going on, and then I had to make a conscious decision (read: Mindfulness + more Self-care) every single rising. I am so grateful that I decided to be patient with Self and keep on pushing, because I'm pretty sure that I was crying every other day last week, and now it's a bit easier to get up and start my day.
I'm not caught in that self-destructive loop anymore, so there's that.
Still haven't managed to fold all of that laundry on my bed, though…one of these days!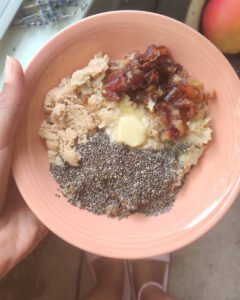 For this Oatmeal I used:
Rolled Oats

Flaxseed Milk

Brown Sugar

Chopped Medjool Dates

Chia Seeds

Plant-based Butter
Let me know down in the comments if you give this recipe a try! Also, I'm wondering what you all like to enjoy in your Oatmeal?
-Michaela ♥