I could talk about Kombucha for hours! There are a lot of drinks out there: Coffee, Soda Pop, Iced Tea, Smoothies, Slurpees, the list goes on, but I don't like to drink a lot of them. 3-4 years ago, I had no idea that Kombucha even existed!
When I was initially introduced to it, I wasn't impressed. I don't recall when or where it happened, but I tried one or two flavors from a brand, and they didn't hit home- but I persevered. I honestly think that I did so because I knew that it had the potential to be "good for me", and given my typical stubbornness, I wouldn't believe that all of the flavors were lackluster. Fast forward to present day, and I am a die-hard fan!
Kombucha is a hit or miss drink. I have spoken with people at length on how amazing it tastes, how wonderful it is for you, and the benefits of daily probiotic intake. I have also spoken with people that abhor the stuff, and swear up and down that "is tastes like vinegar, nothing more".
A little bit about myself: I did not grow up drinking sodas, and other sugary beverages on a regular basis. "Something to drink" at my home consisted of water, hot tea, sweet iced tea, unsweetened iced tea, or milk. It was only on holidays and special occasions that my parents would bring in the gallons (liters?) of soda, and the fruit punch. Just as soon as they were introduced, they were gone, demolished by the hands and mouths of the children and adults in attendance.
I am grateful for this upbringing because now that I live on my own "in the real world", I realize that a LOT of people consume soda on a daily basis. I find this quite alarming because I cannot tolerate more than a few sips of a conventional soda, whether it be due to the high amounts of carbonic acid it contains, or the cloyingly sweet taste of the high fructose corn syrup in the drink; Moreso, high fructose corn syrup! I.e. sugar. Sodas contain crazy amounts of sugar, and I really don't need all of that on a daily basis.
All of this being said, some people like Kombucha, and some don't. Kombucha is a fermented, effervescent, tea. I like it because I find the slight effervescence refreshing, and I personally liken it to a soda: something sweet, bubbly, and a special treat to be enjoyed upon occasion. (i.e. when I want to treat myself!)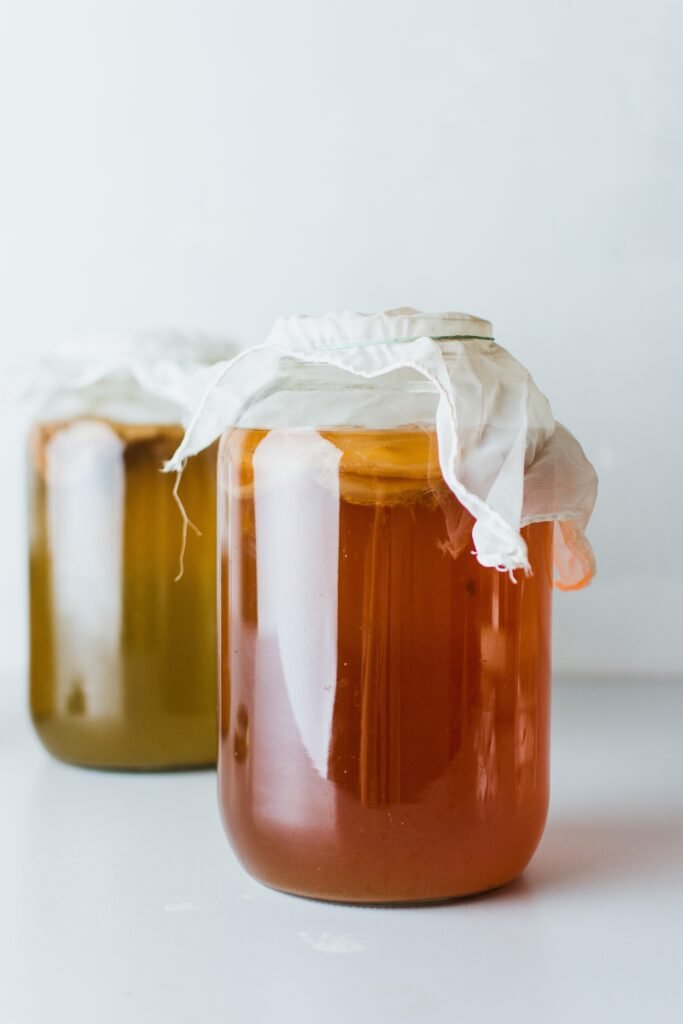 I also like it because of the enormous number of flavors available, the laundry list of health benefits, and fact that you can make it yourself for pennies on the dollar!
Let's talk about the health benefits of Kombucha.
I love that I'm able to pick up a bottle of Kombucha and know that it will not only taste good, but do amazing things for me! I was reading this article today by the Food Renegade and it went over those "amazing things" in great depth, she sites numerous sources and it's an excellent read.
"When I first read about the panacea of benefits, I was skeptical. How could one beverage do so many things? But then I realized that it's not so much that the beverage does something to our bodies, like a medicine targeted at curing specific symptoms. It's more that this beverage promotes health. It gives your body what it needs to heal itself by:
aiding your liver in removing harmful substances,

promoting balance in your digestive system, and

being rich in health-promoting vitamins, enzymes, and acids."
I feel great when I drink Kombucha, and that in itself is a wonderful benefit. Probiotic intake is something that I am constantly seeking, and the traditional probiotic supplements can be pricey, I'm not going to lie. A "high quality" 30 day supply of a probiotic can cost as much as $50, this coupled with all of the other benefits of kombucha has me sold. I try to drink as many as I can afford, and I buy a lot whenever they're on sale at Sprouts, Kroger, and Central Market. (2 for $4? Yes!!)
In Texas, there are a lot of companies that have been around for a while and new companies popping up all the time that produce Kombucha, and it makes me happy that I can purchase something that I love to drink, while also supporting local businesses!
Here are some Kombucha companies local to Texas, with a link to their website:
If you live in a major metropolitan city like I do, there are a lot of stores that are beginning to carry Kombucha, such as Kroger, Sprouts, Tom Thumb, Whole Foods, and Central Market! It's readily available at my local Farmer's Market, as well.
The next time that you're at your local grocer, why not give Kombucha a try? There are so many flavors out there! I am currently obsessed with the "Pineapple Supergreens" from Buddha's Brew.
If you've already given Kombucha a whirl, what are some of your favorite flavors? I haven't made the time to try making it myself at home, but the Food Renegade has a great how-to article detailing how to make your own home brewed Kombucha!
-Michaela ♥