On Tuesday, a colleague of mine gifted me three bottles of juice! I was initially taken aback when he offered them to me, but I eventually accepted them with grace, and packed them away to take them home.
This Green juice, "Vivid Green", was not my favorite. As expected, it tasted like everything listed above, which to me sounds like a salad-a tasty salad at that. I've never been a fan of Green juices, so I probably would drink this again if it were mixed with something else…or attempt to find a way to get my nutrients elsewhere, like by eating that salad.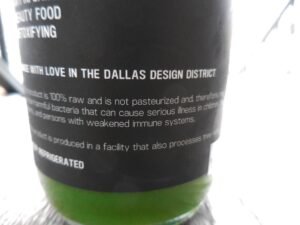 "Made with LOVE in the Dallas Design District"
Fast forward to Tuesday evening, I began to feel violently ill. I say it was "violent" because I was having strange pains in my stomach that made me want to double over and cry out – it was that bad! I tried to recall what I had eaten earlier on in the day, and it wasn't much. I silently took inventory of everything, and vowed to be more careful with my eating, as far as the frequency, as well as the quality of food that I eat on a consistent basis.
This juice "Citrus Sol" was definitely my favorite of the two, probably because it was sweet!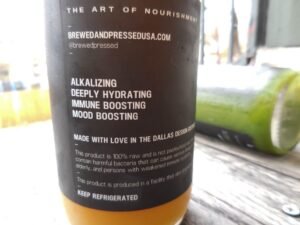 This flavor was quite tasty! I'm not the biggest fan of Grapefruit and I typically avoid all things containing Grapefruit, but I enjoyed drinking this juice a lot. The Coconut Water flavor I didn't pick up on, moreso the acidic flavor from the Citrus fruits Grapefruit, Orange, and a bit of the Cucumber on the finish.
As I did this, I also made myself a cup of Peppermint tea, because it was the only thing that I had on hand at home as far as "remedies for an upset tummy" go. At the time, I also recall wanting to change this.
In the end, I slowly drank the cup of tea, and rubbed my tummy where I thought the pain was stemming from, and watched something on my tablet as I lay in bed to distract myself from the situation.
Once I finished my tea, I immediately noticed a difference in the intensity of the pain, and this made me extremely happy. I didn't know whether to chalk it up to a placebo effect, or if the gentle healing properties of the Peppermint tea were already kicking in – either way, I was eternally grateful. The pain eventually subsided so much so that I was able to comfortably lay down, and peacefully drift off to sleep.
Wednesday morning, I took note of how my tummy was feeling, made myself some more tea, and made sure to take time to stretch, meditate, and just breathe first thing upon waking up. This is something that I have been practicing, and it is now apart of my "daily ritual" each morning.
I immediately noticed an improvement in my overall strength, and my digestive system didn't seem to be in distress, like it was the night prior. Despite these observations, I still decided to make an attempt to go on an all liquid fast – I say "attempt" because this lasted for about 12 hours of so, until around 5:00pm.
At that time, I decided to leave my home to meet up with some friends, and that's when the liquid fast went out of the window. Around this time, I was also beginning to feel "hungry" despite, my constant efforts to drink lots of water and hot tea, in addition to the juices that I had on hand. I decided to be patient with myself, listen to myself, and break the fast when I left home that evening. I made this choice, and I presently do not regret it.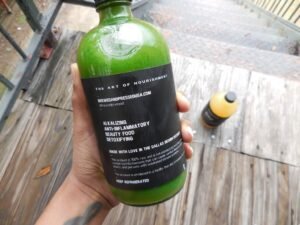 Will I attempt to go on a liquid fast again? Most definitely. I feel as if it is something that I can stick with, but it is also a situation that I will want to go into a bit more prepared the next go around. Here are some tips for those wanting to know more about what I learned from my experience. These are rather subjective, but take from my experience what you will – I am not a licensed professional.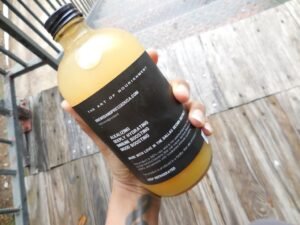 Things I learned
Ensure that this is a conscious decision that you wish to make! Do not go on a fast because it's "cool", "en vogue", or because someone is forcing you to do so. Do your own research, take your time, be patient with yourself, and set some intentions! This is something that I do on a daily basis, but when I do this, I am setup for the day and I have something to focus my time and energy on. I went into this fast looking to detox: my mind, my body, and my energy. I had a LOT on my mind, and I focused my energy on reading, writing, and looking within. I also did a lot of crying, and purging. This is something that I don't do as often as I like, and I feel as if when I decided to incorporate a fast into this ritual, I had a little more clarity, and focus with my intent. It was an eye-opening experience.
Have on hand the things that you will need, like high quality liquids! If I didn't have the juices on hand, I would not have gone on this fast – or, I do not feel as if I would've been fully equipped, and therefore satisfied and able to focus as much as I did. The juices were made with organic, fresh-pressed fruit, so they're full of Vitamins, Minerals, and other nutrients that my body craves on a daily basis. This coupled with the fact that it's almost Wintertime here in Texas, and the beautiful Sun isn't as vibrant and visible this time of year, so now more than ever I want to nurture my body. I would not have felt prepared to go on the fast with Water and Tea alone – at least, not on my first fast. Especially had I decided to extend the fast to 2, or 3 days. If you are choosing a liquid fast, ensure that you have or are able to acquire things like tea, juices, smoothies, etc to give yourself nourishment when needed, things that you LIKE and will want to drink regularly.
Have a good idea of what you intend to do for the day, though you cannot plan for everything, so don't try to. I did not originally intend to hang out with my friends in the evening. I originally intended to spend the day home, reading, writing, cleaning, and doing a lot of things around the house essentially. I also did not intend to bring up as many feelings as I did earlier on in the day when I was meditating, reading, writing, and purging. Feelings both negative and positive were brought up, and I was not equipped to deal with some of the negative feelings on my own – luckily, I did not have to. A couple of close friends came to help me sort through things, and eventually to take me out for dinner. At the end of the day, I made a conscious decision to go out and enjoy the company of my friends because I felt that it was the best thing to do at the time – and so I did.
Always be patient, loving, and kind to yourself. Listen to your body, trust your body, love your body. I felt like it was time for me to break the fast, at least I felt as if my body was telling me to break it, and so I did.
Document your experience in your own way, or don't. I did a lot of writing, as I prefer to write things down. Next time I might record a video, I don't know yet. Do take note of how you're feeling, especially if this is your first fast, no matter what type of fast that you choose to pursue.
I may update this list as more and more things come to me, but presently this is the gist of my experience on Wednesday. Those stomach pains and digestive issues have since cleared up, and have not come back, so I am extremely grateful.
Have you ever attempted or completed a fast? How many days? What type of fast did you pursue? Feel free to comment your experiences below! I would love to hear about all of your experiences with fasting, and the different types of fasting out there.
-Michaela ♥