In light of current events, I was galvanized to re-read "The Autobiography of Assata Shakur" this past week. It really hit different.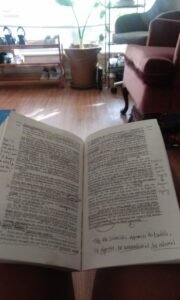 Looking back, the last time that I read this book was towards the end of 2017, and I was reading it for the first time. After initially reading it, I was forever changed. I experienced an extreme perspective shift, and I spent a long time in a state of utter cognitive dissonance.
The main thing that I remember taking away from my first reading of this book was that I felt like Assata heard and understood me. She became one of my heroes, one that I didn't even know that I needed. I was also fixated on meeting her at that time, though I never figured out how I could make it happen, and I also overstood her need for secrecy and going underground after she was called out by not one, but two US Presidents over the course of her exile.
I made sure to take my time in re-reading her autobiography, and I paid special attention to all of the things that I underlined, highlighted, and marked during my initial reading. I read and re-read it a couple times before I was overcome with a flood of emotions and felt the need to stop reading and start writing.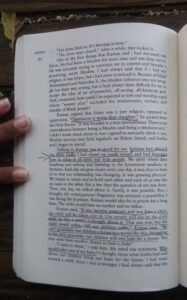 This time around, this particular quote stood out to me.
At times I feel like there aren't many people that I can talk to about the issues that Assata discusses in her book, save for my partner and a couple of close friends, I choose to channel a lot of my thoughts and feelings on paper.
The Black Woman, the Black Man, MANY of the descendants of slaves that still reside here on this land are traumatized.
My Mother is traumatized. My Grandmother was/is traumatized. My Great-grandmother was traumatized. I was able to meet her and spend some of my adolescence with her, but I was never able fully see her and learn of her struggles before she transitioned. That still weighs heavy on my heart to this day, when I think about it.
So many of us are traumatized, and we've never had the opportunity to heal from this trauma, so it's passed down to each generation thereafter. Some were never given the chance to do so, some never even saw that as an option – because you know, Slavery, Jim Crow and everything else that goes along with the Black experience in America.
We're expected to get jobs and simply perpetuate the system that oppressed our Ancestors and continues to oppress us, and also uphold the status quo. We're treated like everyone else, given the same tasks and expected to have the same list of priorities as every other group of people in this Nation, on this land.
The thing is, we're not like everyone else. Our story is different from so many on this same land, down to our origin story.
We are trauma survivors.
I'm presently focused on continuing to do the work, this healing work. A lot of it isn't pretty, and is done behind the scenes. A lot of it may look odd or unfamiliar, because you're on the outside looking in.
It's very apparent though, when you cross paths with those that have not taken the time to heal. There's this disconnect. It can be scary for me at times, because I'm reminded of where I've come from – but that perspective is so necessary, because we're all reflections of one another.
We're all working on our own stuff, and I give thanks every time I'm able to see a person for who they are, recognize their struggles, give them a little grace, and still find common ground. It's my favorite part of "People-ing".
In writing this, I'm reminded of the Adinkra symbol for SANKOFA, which can be translated as "go back and get it".
In one form, it depicts a bird with it's head turned backwards, while it's feet face forward, carrying a precious egg in it's mouth. To me, it represents the importance of learning from the past, and it's so very telling.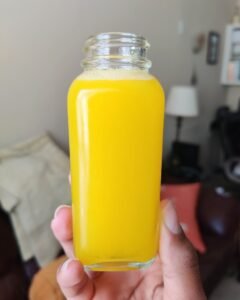 I made myself some Pineapple juice after I finished writing – I am so grateful for this fruit!
I do my best to find some reason to give thanks daily, because I'm not where I want to be, but I am so grateful that I'm no longer where I was.
-Michaela ♥