This simple, yet delicious recipe came from the collaborative efforts of my cousin Drew and I. One night a couple of weeks ago, I recall having all of these fresh ingredients on hand, yellow corn grits being one of them, and I couldn't remember the last time that I had eaten or even prepared grits!
I'm not sure how most people grew up, but I was born in Florida, and I spent a good part of my childhood there, which could be considered "The South", depending on who's asking. I mention this because I would like to say that I was raised around a lot of fresh, and flavorful "Southern" cuisine, Homemade Corn Grits being one of them!
I distinctly recall weekend mornings spent over the hot stove top, carefully and consistently stirring a large pot of grits that would soon be enjoyed by my entire family.
We would often sprinkle a bowl of grits with a butter, cheese, and salt, enjoying them along side some biscuits, sausage, bacon, eggs, or whatever else I was helping my Mother prepare that day.
Sometimes, the grits would serve to be the main course, topped with sugar, butter, and cinnamon, served along with a side of toast.
My cousin Drew and I did not grow up together, he was actually born and raised in Texas, and I didn't meet him until well into my young adulthood, around age 18 when I moved to Texas. When he told me that he was coming over for dinner that evening, I was hesitant at first, but I went ahead and told him that I was craving a bowl of "Shrimp & Grits", and that I already had all of the ingredients on hand to make them for dinner, if he was up for it. He immediately said that he would gladly indulge me.
Looking back, I suppose I was hesitant to share this with him because I did not know whether or not Texans ate cheese grits, as ridiculous as that sounds. I was nervous that he wouldn't even know what I was talking about! Like, who wants Shrimp & Grits for dinner!? Besides me of course, I felt as if most people wanted that food item at "Brunch", or at the very least "Breakfast"!
I made the Grits, Drew made the Shrimp, and an amazing sauce that he insisted that we bring into the equation, to being everything together. I say that he insisted, because by the time he arrived and all of the food was done, I was famished! Despite this fact, I persevered and waited patiently while Drew showed me how to make an amazing cream based sauce that was not only palatable, but sooooo easy to make – and well worth the wait!
Shrimp and Grits Recipe Sidenote:
I did NOT grow up topping my grits with Green Onions, I believe this is something that I picked up along the way, but I definitely recommend finishing your grits with freshly chopped Green Onions if you have them on hand. They add an amazing burst of fresh flavor to this rich, decadent dish.
The following recipe serves two hungry adults – don't let the portions fool you! I was both surprised and upset to find myself getting full at about halfway through my bowl. As most are aware, looks can be deceiving, and the amount of food + flavor in my bowl was no match for my appetite, or the lack thereof!
I'm certain that my favorite part of this entire classic dish is the sauce-it really does bring everything together. Don't be afraid to play around with the Chili Garlic sauce, it adds a comfortable level of spice to the equation.
Shrimp & Cheddar Cheese Grits Recipe

Ingredients:
4 to 6 – large shrimp
1/4 – cup yellow corn grits
1/4 – cup grated cheddar cheese
6 
– ounces cream cheese, softened
1/2 – cup heavy cream (or milk)
1/2 – cup water
1/2 – TBSP unsalted butter
1 – pinch salt & pepper (to taste)
1 to 2 – chopped green onions (optional)
1 – pinch crush red pepper flakes (to taste)
1 – TBSP chili garlic sauce (optional)
1 – TBSP parsley flakes (to taste)
In a small to medium sized saucepan or heavy bottom skillet, lightly whisk together the cream and water over medium heat. Stir every so often, until this mixture comes to a vigorous simmer/gentle boil. 

Add the corn grits, and whisk gently until everything is incorporated. You will need to stir regularly to prevent sticking, with the lid off. Lower the heat to medium-low, but don't walk away! Keep stirring, grits can begin sticking to the pan very easily, depending upon the type of tools you're using.

Allow the grits to simmer over medium-low heat, stirring constantly, for 10-15 minutes. Feel free to add water, cream, or milk to the grits as time progresses, if you feel that they're beginning to get too thick, or if they are sticking to the pan.

Add in the salt, pepper, and butter. Taste the grits, they shouldn't taste too grainy or dry, moreseo creamy, smooth, luscious, kind of like "Cream of Wheat" but a little more textured. If they don't taste "done", keep stirring and adding in more liquid as needed. Check the grits with a taste-test every 5 minutes. Use your best judgement!

Once the grits are finished, fold in the cheddar cheese, and stir constantly until smooth. Turn off the heat, cover the pan with a lid- if you don't have a lid, cover the pan with foil! Set the grits aside.

In another pan, a small to medium sized saucepan this time, add in the 1/2 Tablespoon of butter, and melt over medium heat.

Once the butter has melted, add in the Shrimp, and cook for about 1-2 minutes on each side, until they turn pink. This time will vary greatly depending upon how large or small the Shrimp are. If you chose small Shrimp, they will probably be done in less than a minute – the key here is to keep a close eye on things. 

Once the Shrimp have all turned pink, remove them from the pan, and  place them onto a

separate

 plate. 

Add the Chili Garlic sauce to the pan that you just cooked the Shrimp in, and over that same medium heat, lightly sautee the Chili sauce until it is fragrant, about 1-3 minutes. 

Pour in the cream, and add a pinch of clove, the parsley flakes (if using), and the crushed red pepper flakes at this time. Add salt & pepper to taste, keeping in mind how much salt was added to the grits.




Allow the sauce to come a vigorous simmer, stirring constantly. The sauce will begin to thicken within 3-4 minutes of stirring, if that. If you are using milk as opposed to cream, the sauce will thicken but it will take a little bit longer.

Keep stirring, and turn off the heat when the sauce has reached the desired consistency – once again, use your best judgement!
To serve, portion the grits into two bowls, top with the Shrimp, the pan sauce, and finish each bowl with freshly chopped Green Onions. 
Serves 1-2
I've already made this dish three times since Winter began, I'm wondering if it's because it's so hot and filling, yet flavorful and fresh? I didn't crave cheese grits nearly as much in the hot days of Summer, but I'm alright with that. 
I've made several variations of this simple dish already, one version topped with a sunny side egg and chopped Green Onions, no sauce. Another version that I made included simply the sauce and chopped Green Onions. This dish can easily be dressed up with caramelized Onions, Bell Peppers, and Mushrooms, or dressed down and enjoyed finished with chopped Green Onions alone, the choice is yours. No matter how you prepare it, I'm sure it will be delicious because it was made by you!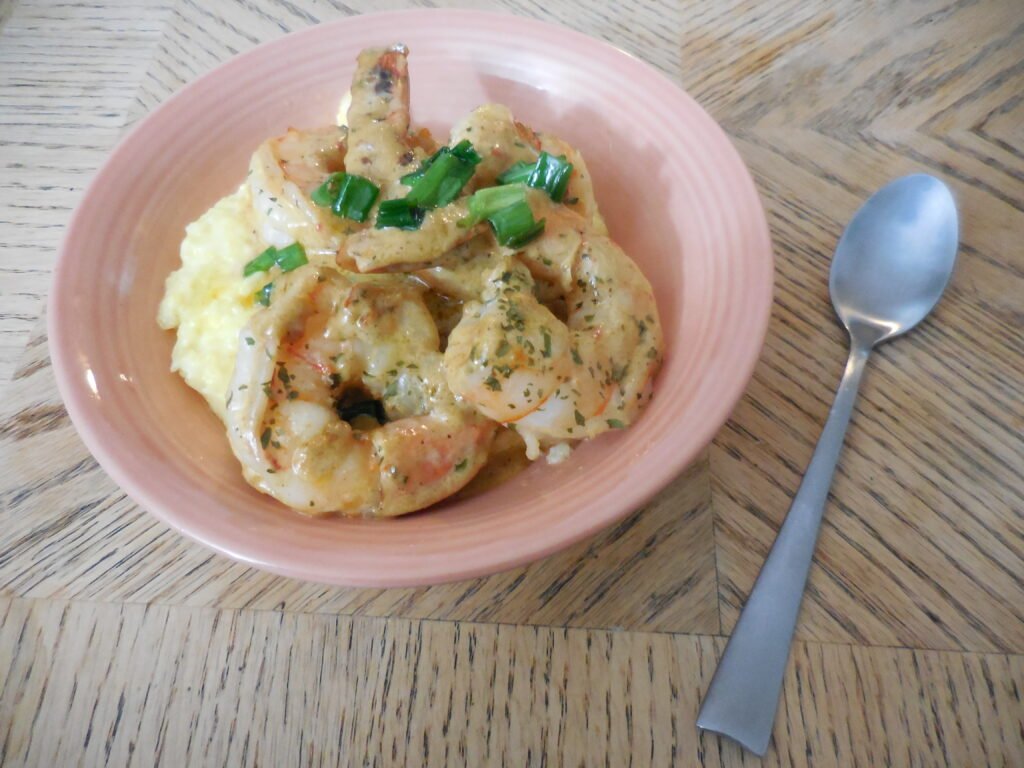 Have you ever made Shrimp & Grits? Do you like Shrimp on top of your grits, or do you like another classic protein like Sausage or Bacon?
Please let me know your thoughts below in the comments! I would also love to hear if anyone gives this recipe a try.
-Michaela ♥