On cold and rainy days like today, sometimes I will begin to feel gray and gloomy like the skies themselves. When this happens, I will usually do a mental check-in to make sure that nothing is actually wrong! If this is the case, I will typically have to decide to turn it around if I want to get anything done for the rest of the day – major adulting, I know. In instances like this, I like to be rather intentional and turn to a tried and true method: a late morning or mid-afternoon pick me up from a cup of tea or coffee.
I am still relatively new to the world of coffee, but tea was one of my first loves – and matcha green tea is one of my all time favorites. I like it not only because it tastes green and earthy, but also because it has a wealth of therapeutic properties and is often referred to as a mood and brain food. I highly encourage you to do your own research, but matcha green tea has really helped to boost my mood and helped me to break out of some serious negative thought loops.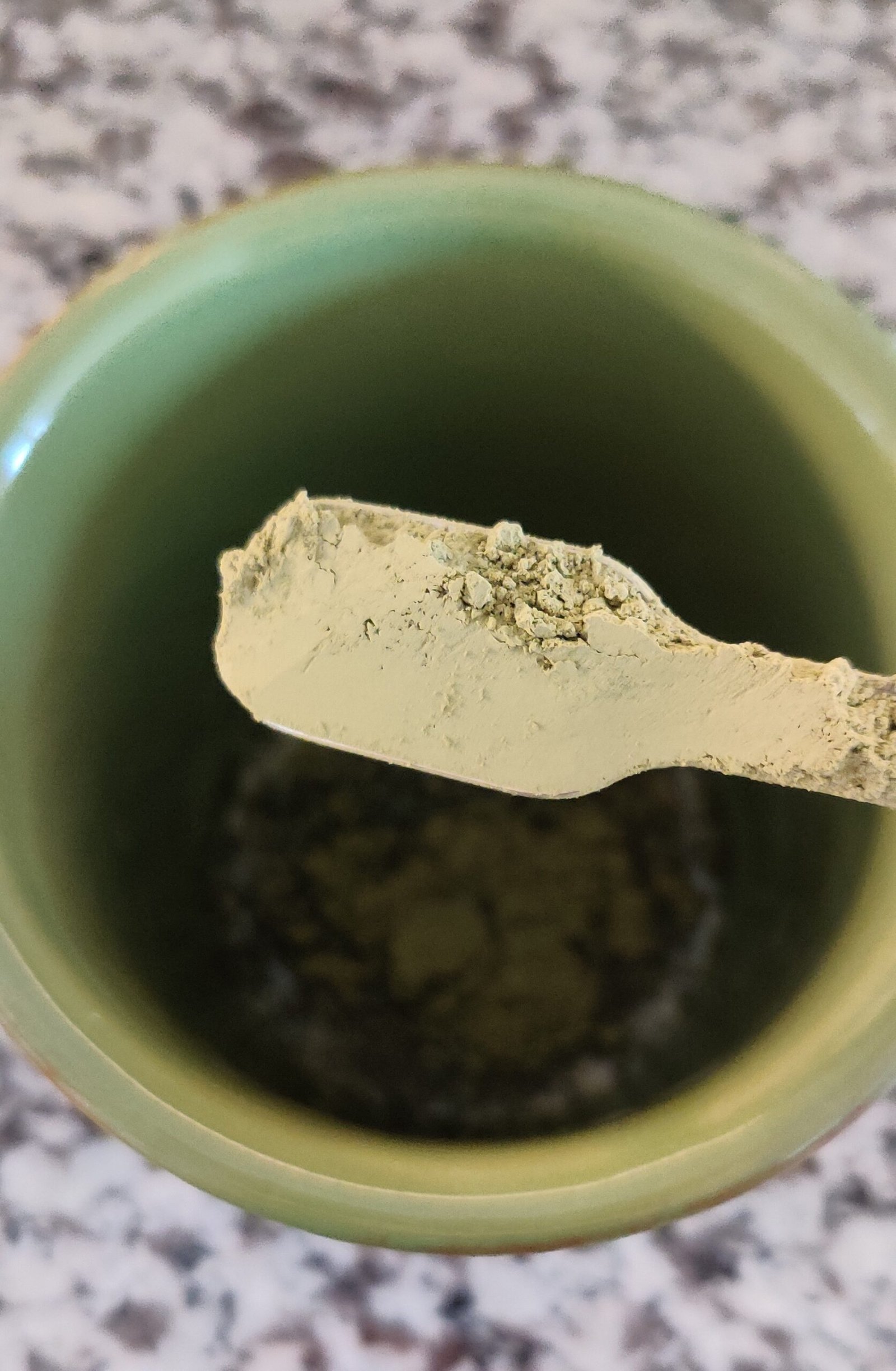 I like to make myself a matcha green tea latte using plant-based milk like oat milk and a touch of maple syrup for sweetness first thing upon rising some days instead of coffee. I also enjoy a non-dairy matcha green tea latte in the early afternoon to beat the after lunch slump between 2-4pm. It always serves to give me a nice healthy dose of caffeine for focus, minus the jitters that I sometimes experience when I drink too much coffee, too fast. Green tea is traditionally known to induce mental clarity, cognitive function, physical activation and relaxation.
What is matcha green tea?
Matcha is a type of green tea made by taking young tea leaves and grinding them into a bright green powder. The powder is then whisked with hot water. This is different from regular green tea, where the leaves are infused in water, then removed.
This is different from regular green tea, where the leaves are infused in water, then removed.
Drinking brewed green tea "is a bit like boiling spinach, throwing away the spinach and just drinking the water," says Louise Cheadle, co-author of The Book of Matcha and co-owner of the tea company teapigs. "You will get some of the nutrients, but you're throwing away the best bit." With matcha, you're drinking the whole tea leaves.
Some interesting facts about the health benefits of matcha green tea:
🌱 Matcha leaves are grown on green tea bushes kept under shade.
🌱 The shade increases the amount of chlorophyll content in the leaves, which is what makes them bright green and full of nutrients.
🌱 Matcha is high in the amino acid l-theanine and a class of antioxidants called catechins.
🌱 Studies have shown that it may help to prevent heart disease, type 2 diabetes and cancer, and even encourage weight loss.
🌱 A 2014 study reported that when people drank green tea for 12 weeks, their blood pressure dropped significantly.
🌱 Studies have shown that L-theanine and caffeine have clear beneficial effects on sustained attention, memory, and suppression of distraction.
What does matcha green tea taste like?
A good matcha green tea will not taste bitter at all; there will be a slightly sweet taste. I personally think that it has a pleasing, earthiness to it that is slightly nutty. The flavor of the matcha itself is quite distinct, and it can be overpowering if you use too much of it, so keep this in mind. My rule of thumb is to use approximately 1 to 1.5 teaspoons per serving.
Depending on the type of non-dairy plant-based milk that you choose to put in your latte – if you choose to make a latte – it will add to the overall richness of the experience.
For example: coconut milk, specifically the full fat coconut milk from the can, is so rich and creamy that I feel as if it would actually overshadow the subtlety of the matcha, so I personally do not recommend using this milk when making a matcha green tea latte. Oat milk and cashew milk however are just creamy enough, but also offer a more muted/blank palette, which compliments the matcha really well.
As for sweetener, you can opt to take it or leave it. I personally love maple syrup in my matcha lattes, it's just sweet enough to where you don't have to add too much, and the sweetness is not overbearing. I have also experimented with Monin syrups and I enjoy a lavender matcha latte as well as a french vanilla matcha latte – a little goes a long way with simple syrups!
Lastly, I like to add honey from time to time, but I personally think that the distinct flavor of honey is a bit distracting in this application, though some might enjoy it. Experiment, and do what makes you happy!
Have you ever tried matcha green tea? Let me know down in the comments below!
-Michaela 💚
—
Sources
M;, D. (n.d.). Effect of Green Tea Phytochemicals on Mood and Cognition. Retrieved January 07, 2021, from https://pubmed.ncbi.nlm.nih.gov/28056735/
Sifferlin, A. (2018, March 08). Health Benefits of Matcha Tea. Retrieved January 07, 2021, from https://time.com/5188377/matcha-tea-benefits/
Link, R. (2020, February 25). 7 Proven Health Benefits of Matcha Tea. Retrieved January 07, 2021, from https://www.healthline.com/nutrition/7-benefits-of-matcha-tea#5.-May-promote-heart-health